5 DAY FREE CHALLENGE REVEALS:
How To Align & Attract Your Dream Remote Job
___________________________________________________________
Hit the EASY button on your remote job search
Are you desperately searching for a remote job?
Don't know why you're not getting chosen for the roles you want?
Can't find any positions that interest you?
I've coached so many people from this feeling of frustration to their first remote roles with EASE, that I've realized where most candidates go wrong.
When you refuse to focus inward, you miss out on all the alignment that could help you attract your dream job! It's time to stop the madness. I'm here to help.
Find out more in this 5 Day Free Challenge.
I created this FREE challenge to lead you from confused and hoping to succeed at some kind of remote work… to aligned and READY to take proper action towards becoming a full fledged remote worker.

Whether you're obsessed with travel (like me), a stay-at-home mom, a student about to graduate college, or simply just sick of your long commute, this challenge will cut through the nonsense, giving you the mindset necessary to attract your dream job.
Want to know the schedule? I don't blame ya!

>> DAY 1 - ACCEPTANCE
On Day 1, we will explore why accepting your starting point is ESSENTIAL to moving forward. It's a step that often gets skipped when going towards big goals!
>> DAY 2 - ABUNDANCE
On Day 2, we'll discover how the remote world is actually the most abundant opportunity to jump into right now. I'll show you how to act from a mindset of abundance no matter how confident you feel at the moment.
>> DAY 3 ALIGNMENT
Day 3 is all about aligning with the right opportunities. You'll learn what alignment can do for your conscious career path!
>> DAY 4 ATTRACTION
By Day 4, you've already created a system within yourself to attract your wildest dreams! So how can you be sure you're a consistent vibrational match to your dream remote job? Vision boards? Manifestation? Positive self talk? Let's find out.
>> DAY 5 ACTION
On our last day, I'll make sure you leave with an action plan of how to attract your new online career. We'll uncover how all the tools and strategies you've learned actually look in the remote job search. Plus, I'll give you an accountability plan for the future, so you don't have to go it alone!
SOUNDS LIKE EXACTLY WHAT YOU NEED RIGHT NOW?
Great. Join us for a completely free mindset transformation that allows you to finally manifest your online carer into reality from
April 15th-19th 2019
This FREE challenge is for:
⇒ Moms who want to work from home because family is EVERYTHING!
⇒ Millennials who don't want to enter the corporate lifestyle.
⇒ People with chronic pain and illness who need to work from the comfort of their homes.
⇒ Travel lovers who need a location independent career so that they can start their Digital Nomad lifestyle.
⇒ Freelancers who are tired of hunting for clients each month and want a steady paycheck.
⇒ Woke AF remote hopefuls who know that mindset will outweigh any misaligned actioned every day of the week.
---
This FREE challenge is NOT for you if you:
⇒ would rather ignore mindset all together, instead of starting at the core of a successful job search!
⇒ are looking for a golden ticket to earning money online without doing anything.
⇒ are not ready to put in the work after this free challenge is over.
These are actionable strategies. Get ready to actually take action!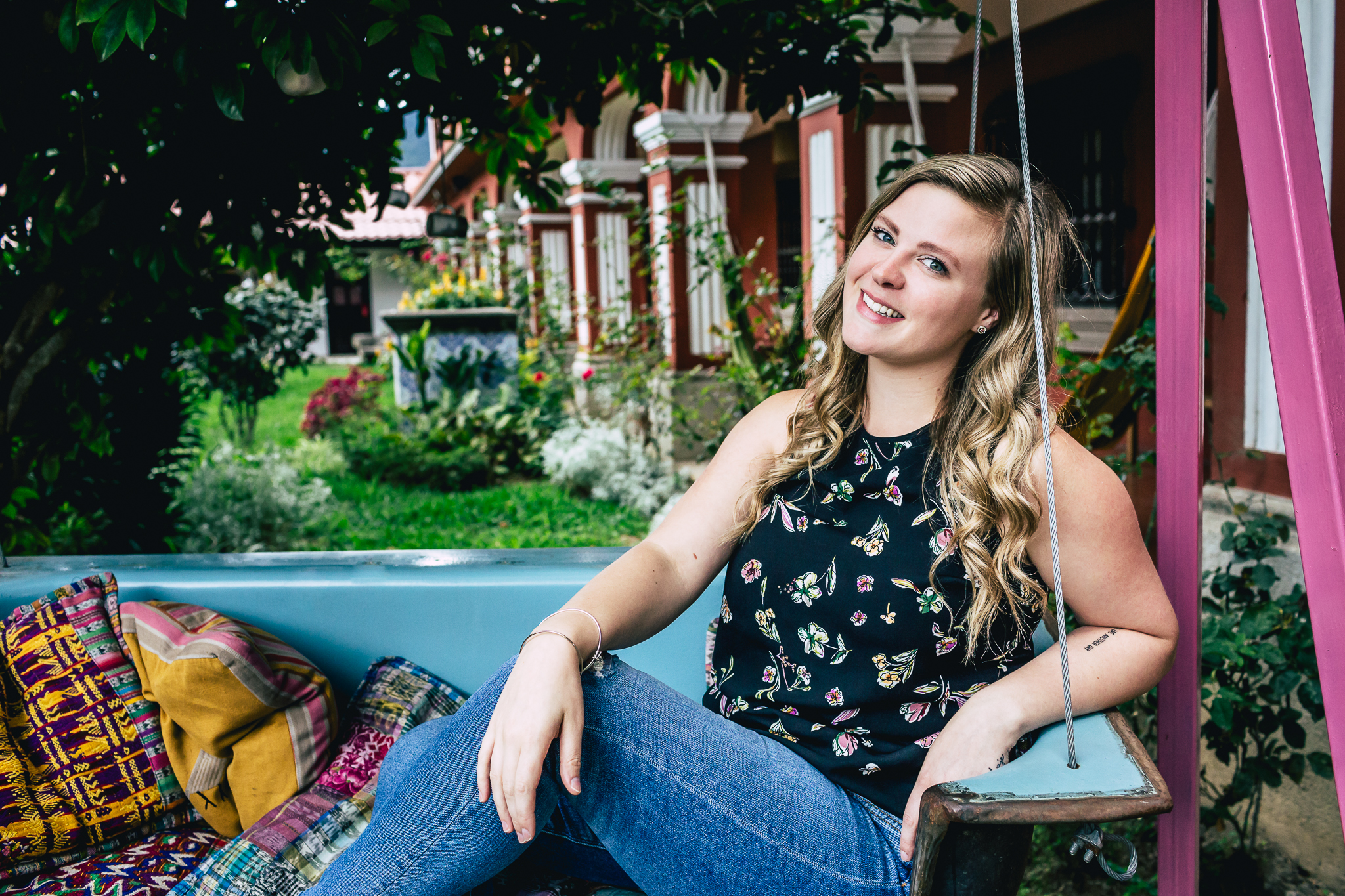 About your host:
Taylor is a remote career coach who helps people find and land remote jobs with skills and experience they already have. You probably know her from the Facebook Group, Remote Like My Community. She's helped tons of remote hopefuls turn their virtual career dreams into a reality. Originally from Connecticut, USA, Taylor has been living in Central America and travelling the world for over two years. She is currently calling Antigua, Guatemala her home base. Want to know more about how Taylor went from Zero to Digital Nomad in a matter of weeks? Read below.
My mind used to be made up too... "I will dread going to work every day for the rest of my life.
Let's face it, that's just normal"... SMACK!
I can't believe I ever thought about life that way. Here's the story of how it all changed.
In 2014 I had the opportunity to travel to Guatemala and volunteer with people with special needs. As soon as I saw the world through eyes other than my own, a light switched on inside of me. From that moment on, teaching within the same four walls every day did not bring me joy. After returning to Guatemala many times, I knew I needed to find a way to fund a lifestyle centred around travel. There was one small problem. I had no idea where to start.
So I did what any bright, blonde, 22-year-old girl would do. In 2015, I moved to Central America to figure it out. I spent my days exploring, my nights bartending, and any waking moment I had left on researching the remote lifestyle. I applied to a handful of remote jobs and luckily landed one with an email marketing company. I had set myself free! I spent the next year of my life working from my laptop and travelling the world. Mexico, Lithuania, Colombia, Morocco, Spain, the list goes on. Friends, family, and straight up strangers wanted to know how it's done. I saw so many deserving people with a strong desire to work remotely with no idea where to start out. I had to do something…
I experimented by sending a few newsletters, listing remote job opportunities in various industries and the results were insane! People started applying and landing jobs right away. I was screaming with joy (literally) and knew I could continue to help people all over the world. Now, I run monthly memberships, create courses, and lead a Facebook Group, Remote Like Me Community, on how to find and land remote jobs.
As I help more and more people, it becomes apparent to me that the slowest and hardest job searches are experienced by those who aren't aligned with what they TRULY want in life. On the contrary, the easiest path to remote work is often created by a person who is a vibrational match for their dream job. Instead of keeping this info to myself because I knew some people in the community would not accept the importance of mindset, I decided to create this free challenge to help you see what a difference it can make.
It's time to start your remote work journey today, from within. I'm honoured to be your guide.
Frequently Asked Questions